Stage Plot Maker lets you make professional stage plots for your band. You can set up your stage plots with a drag and drop interface, then print or email them directly from your iOS device.
Stage plots can include standard icons for mics, monitors, drums and stage furniture, with custom text labels; a numbered input list; a photo of each performer; notes for the sound engineer; and your contact info. Your stage plots are archived so you can easily copy and edit different versions for different kinds of gigs.
This app does not include pictures for all your instruments -- only large instruments like keyboards and drums that require prior placement on stage. The sound engineers I consulted with agreed that pictures for other instruments are often distracting. You can add text labels to each of your inputs instead, like "DI for acoustic guitar." If you want to make a stage plot that includes pictures of all your instruments, you should select another app.
If you use BandHelper, please do not buy this app, because the same functionality is now included in your BandHelper subscription!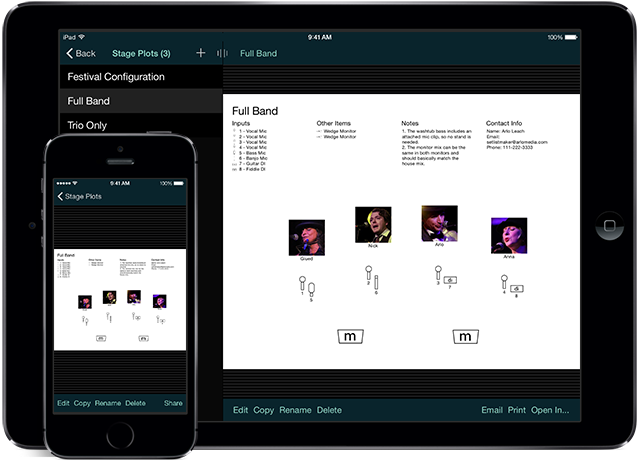 Demo video
iOS release dates show when I sent the update to Apple; Apple typically releases to the public as little as 2 or as much as 8 days later.
Version 1.1.1, 1/6/17
- Fixed the saving of item details on phones.
- Changed the layer ordering to position risers under all other items.
Version 1.1, 9/28/16
- Updated the editing behavior of stage plot items. Items no longer show their remove, rotate and options buttons by default, but you can tap an item to show the buttons, or tap the background to return all the items to the default state. You do not have to tap an item before moving it.
- Updated the group selection so you can select a group of items, then rotate them together by dragging the rotate button or tapping the options button and entering a rotation angle.
- Updated the group selection so you select a group of items, tap the options button and the Copy Items button to copy the group, then tap an empty area in the same or a different stage plot and select Paste Items to paste the items at the new location.
- Added a background grid to the stage plot while editing to make it easier to align items.
- Added an export button to the stage plot page and an import button to the stage plots list. This allows you to send stage plots to other devices or back them up outside of Stage Plot Maker. This function allows you to exchange stage plots between Stage Plot Maker and BandHelper.
- Dropped support for iOS 5-6. Stage Plot Maker now requires iOS 7 or newer.
Version 1.0.2, 7/19/15
- Added tools to simplify rotating items on the stage plot. Items now have a rotation handle in the lower-left corner instead of a two-finger gesture, for easier rotation on small screens. Also, the item detail popups now have a rotation input field, to allow setting an exact rotation value across multiple items.
- Added tools to simplify selecting items that are layered on top of each other. Tapping any part of an item now moves it to the front. The item names in the Input and Other lists are also tappable while editing, to move an item to the front. And the item detail popups now have a button to move the item to the back. When saving, items will return to their default layer positions.
- Added a function to move a group of items together. You can now drag to highlight an area of a stage plot, and all items inside that area will become selected. You can then drag any of the selected items and they will all move together. When you are finished, tap an empty area of the stage plot to deselect the items.
- Added new items: mixer, horn stand, guitar stand, guitar rack and fan.
- Increased the resolution of printed stage plots, and made the print resolution independent of the screen resolution.
- Retained unsaved changes while resizing the columns or rotating the device.
- Corrected the size of the stage plot display on a phone after rotating the device.
Version 1.0.1, 4/29/15
- Increased the maximum height of the input list to the full height of the page, which will accommodate about 40 channels.
- Added hints to the performer edit page about adding and cropping photos.
Version 1.0, 3/4/15
- Initial release.